Unforgotten viewers are up in arms that the new series isn't available to watch on ITV Hub.
Unlike with the channel's recent run of Marcella, ITV has held off from adding the fourth series to its viewing platform meaning that fans of Unforgotten are having to wait a week for every episode.
This has naturally left some fans complaining on Twitter. It turns out many people were expecting to be able to binge the Nicola Walker-Sanjeev Bhaskar series after it returned.
"Watched the first episode of the new series of #Unforgotten and already hooked," one viewer wrote, adding: "Why can't I binge watch it on ITV hub?! I don't want to wait another week."
Another stated: "Ooooooooooooooooo to the ending of E1 but Booooooooo to having to wait for the next. What happened to the golden words 'all episodes available on the ITV Hub.'"
One fan asked: "Why are ITV making us wait a week for the next episode of Unforgotten? Just put it all on the Hub pls."
For those wondering why this is, the show's creator Chris Lang explained in reply to one tweet that the show is actually still in post-production, meaning that work needs to be completed on some of the episodes.
"Sadly we couldn't put it all out at once, as we are still in post production even as we air," he wrote.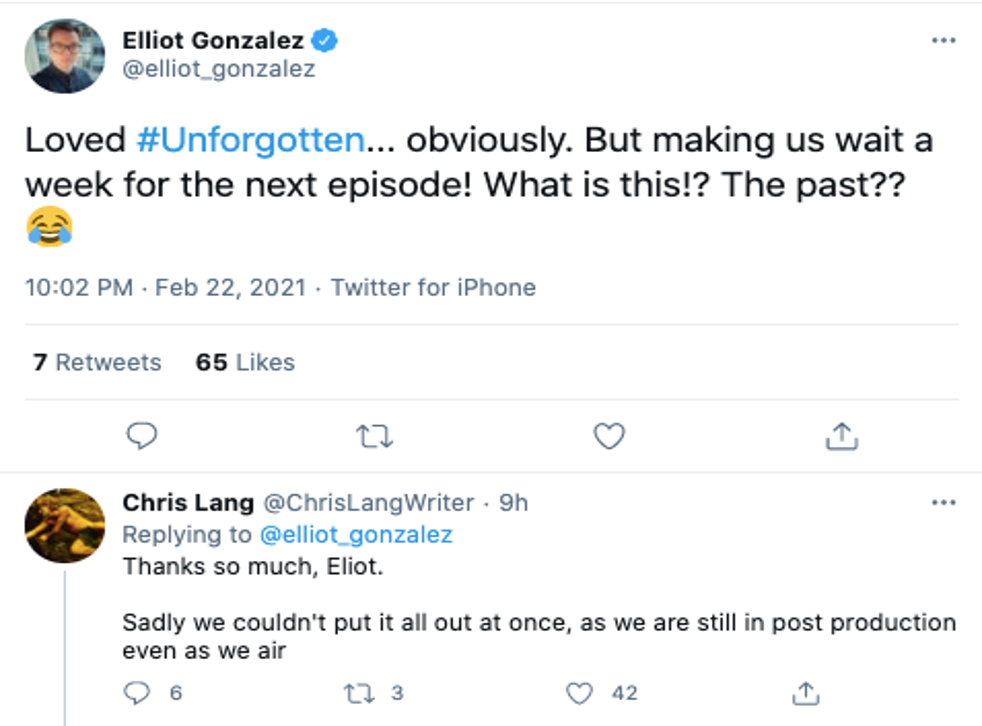 Read our glowing review of the brand new series of Unforgotten here.